We are a group of loving Christians who strive to seek God (Matthew 6:33), save the lost (Luke 19:10), and serve the community (Galatians 5:13). We invite you to come to one of our assemblies. We worship God in spirit and in truth as outlined in the New Testament. We encourage you to ask questions. We are happy to study the Bible with you individually or as a family unit. We also have correspondence courses available.
Click Here to listen to sermon audio!!
Free Online Bible Study…click photo below.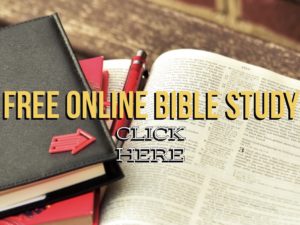 Worship Times
Sunday
9:30 AM Bible Classes
10:25 AM Worship Service
1:30 PM Worship Service
Wednesday
7:00 PM Bible Classes